ONE CLICK INSTALLS WITH LINUX HOSTING AT £99
What's all the fuss about 1 click install?
1 click install is included in our 99 pounds per annum hosting package.
The programmes listed below are all free for you to install and use with literally one click of the mouse. This means at the present time, not only do you get the best hosting available you also have an on-line updated library of industry leading applications any time you want them.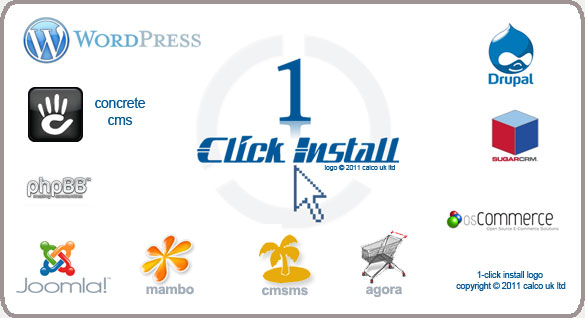 Wordpress for example ...
We got a call from a customer who needed a website set up that day. We asked her to prepare the text and a few images. While she did that we acquired a domain and installed the hosting and a short while later, the email address and Wordpress 1-click install. We then called the customer to let her know that her website with dummy content was ready for use. She updates her website herself every day now.
At the other end of the Wordpress spectrum, we use it ourselves for complex data driven websites where client interaction is required. The huge number and variety of add-on components called plug-ins makes this task easy as there is a plug-in for almost any web task you can think of.
... and that's just one of the 1-click-install applications:- here are the others included in the "99" Hosting pack...
E-COMMERCE
Included Free
Applications are updated regularly - also check your control panel fior new versions
Shared Secure Server Access
osCommerce Shopping Cart
CubeCart Shopping Cart
Agora Cart - Simple Shopping Cart
Zen Cart
OpenCart
PrestaShop
TomatoCart
Simple Invoices
APPLICATIONS
Guestbook
Geeklog Blog
WordPress Blog
Concrete5 CMS
bbPress
BuddyPress
Piwik
Simple Machines Forum (SMF)
Zenphoto
StatusNet
LimeSurvey
Vanilla Forums
Pligg Social Networking
Moodle
Open Web Analytics
Nucleus Blog
Joomla CMS 1.6, 1.5 & 1.0
Mambo CMS
Locked Area Lite Password Manager
phpBB 2 & 3 Online Discussion Forum
Eblah Online Discussion Forum
Typo3 Content Management System
Crafty Syntax Live Help
PHP Coin Web Hosting Billing System
Openads - Advert Banner System
dot Project - Project Management System
osTicket - Ticket System
Postcards
Form to Email
Custom 404 and 500 Error Pages
Search Engine
Free For All Links page
Banner Advertising System
Online Auction - Just Like EBay
Domain Name Checker
Coppermine Online Photo Gallery
Web Calendar
Web Survey
Internet Countdown
Random Text Displayer
Random Images Displayer
Tell-A-Friend
Web Ring
Trouble Ticket Express
Classified Adverts
Java Clock
Gallery2
RoundCube Webmail
MediaWiki
SugarCRM
Textpattern: A standards-compliant content management system with an intuitive admin control panel and an active community.
New Jan 2012
Pixelpost: If you're into photography yourself or have clients who want a gallery or photoblog, then Pixelpost may be the perfect solution.
New Jan 2012
Mantis: Need to track bugs within your internal systems or for the software you create? Mantis is a great free bug tracking system with a large array of features.
New Jan 2012
PHProjekt: A full-scale project management system ideal for agencies and businesses who have multiple projects on the go.
New Jan 2012
phpMyFAQ: Add an FAQ or knowledge base to your website in seconds.
New Jan 2012
MODX : a content management platform that gives users the capability to build sites simply, fast – and with a great deal of creativity.
New Jan 2012
New applications are added to the library as they become available and will appear in your control panel automatically!
ADDITIONS & UPDATES
Piwik Analytics
Zen Photo
Lime Survey
OpenCart
Status.Net
Our existing 1-click-installs have just been upgraded :-
- Drupal V6.22
- Drupal 7 V7.4
- WordPress V3.2.1
- Website Search V1.6
- Crafty Syntax Live V3.1.2
- CMS Made Simple V1.9.4.2
- Elgg V1.7.10
- Geeklog Weblog V1.8.0
- MediaWiki V1.17.0
- phpBB3 Forum V3.0.9
- AWStats Statistics V7.0
- Roundcube Webmail V0.5.3
- SugarCRM V6.2.1
- Typo3 V4.5.3
- Tracewatch V0.353