Sustaining the initial effort
Many of our larger clients simply block pay a year's worth of SEM / SEO
This has two advantages:-
A) The resulting link building looks natural as its spread over a period of a year.
B) Its cheaper, especially if paid annually.
What do I get and what does it cost? (also see the panel on right for quick price reference)
You get ...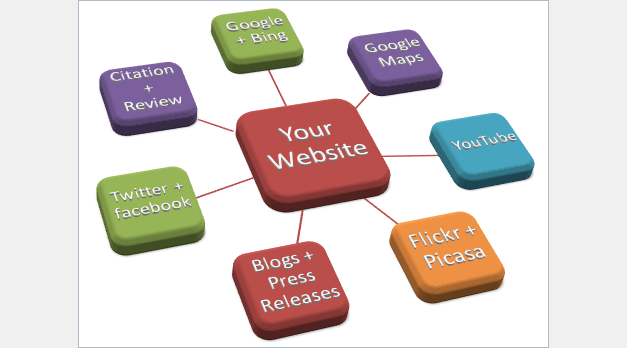 The Chart above shows most of the categories in which Calco actively market client websites. Areas like Twitter are perhaps specialist but essential for companies like Estate Agencies and Event Organizers. Flickr, Picasa and Google Images can reinforce general business sites but are essential for Photogrpahers and Artists.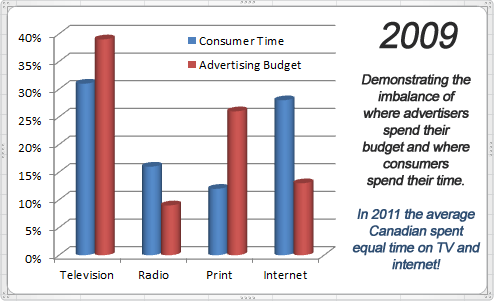 How much does it cost? First take a look at the chart above. Although the raw data is somewhat old (2009) the chart graphically demonstrates that the proportion of budget a company will spend is not proportional to the audience. There is perhaps an inertia to be overcome that pulls advertisers to tried and tested media like Print and TV and that a wariness of new web technologies that needs to be overcome. Lastly Print may not be dead, especially as magazines are now re-purposed for tablet and web, however Print IS inherently expensive! Dis you know that latest figures show that the average
Canadian splits screen time 50-50 between TV and Internet/Phone/Tablet/Laptop.
SEO
Included
Applications are updated regularly - also check your control panel fior new versions
Coming Soon (full specification)
SEM
Comin Soon (full specification)
What does it cost?
199 pounds per month for all inclusive plans.