UNLIMITED WEB HOSTING PACKAGES
WINDOWS AND LINUX
We currently sell two web hosting packages : Linux Red Hat and Windows 2008 Server.
UNLIMITED WEB SPACE
Both packages are unlimited in that you can have as much space as you need (see our fair use AUP) and as much bandwidth as you need.
UNLIMITED BANDWIDTH
Each time a file is downloaded and transferred across the internet from our servers (or vice versa), this is called Bandwidth. Many Internet companies charge for bandwidth; we do not.
UNLIMITED EMAIL ADDRESSES
Need a few email addresses for different parts of you business and members of staff. Simply create all the email addresses you need via our easy to use control panel. Junk Mail filters are configurable per email or per domain.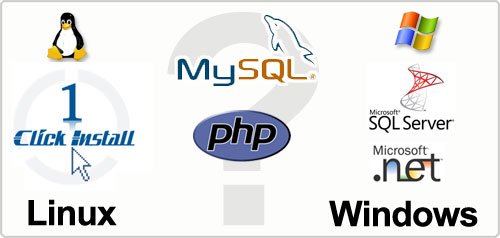 THE DIFFERENCES (OR NOT?)
In the past WIndows hosting was expensive because Microsoft understandably charged for each and every feature they added to their web operating system (Windows Server). You pay for Microsoft SQL Server Database, Exchange and Office. However they have now added superb handling features to their latest versions which allow you as the user to install and utilise the power of MySQL and PHP, previously the domain of Linux hosting. Add to this the Calco Mail platform and Google Docs and little remains to be paid for.
Our own opinion is that you still opt for (and pay for) MS SQL Server and the full MS Office Solution; its a superb, tightly integrated web solution.
If you are on a budget or want the flexibility of over 60 one click install applications (ostensibly free); opt for Linux.
EASY SET-UP AND TRANSFERS
Your hosting package is set up in minutes.
We can also undertake the transfer of hosting from your current host to Calco and minimise down-time and email outages.
OTHER
Call us and we answer. If you need advice on the best way forward in business, our experts are there to assist. If something goes wrong they are there to get things back on track. Our Server Systems are monitored 24 hrs per day!
Reliability - Expertise - Price - Courtesy.
We treat the customer's satisfaction as a priority and listen to your suggestions, after all its what built our company

DO YOU NEED WINDOWS?
At present we offer over 60 1-click installs with our Linux Accounts and just 12 with WIndows. However Windows does allow you to write your own web applcations as the account offers the .NET framework as standard. Although we offer MySQL databases as standardwe do charge for MS SQL databases per 200mb block.
If you are new to website hosting you will probably want to choose Linux.
CHEAPER ACCOUNTS
We only sell 1 account - it offers users unlimited bandwidth and features. If we add a new feature all our account holders will automatically acquire the feature(s) in their control panels.
If you feel you dont need ANY features or databases or a domain name, our sister company FCD can provide you with MINIPAK hosting. Please call 01599 534964 and ask for MINIPAK - costs run at around 3.99 per month (paid annually)
TRANSFER INTO CALCO
Problems with your existing host - call us to find out how EASY it can be to transfer your website to Calco : Tel: 01599 534964