Company Pages - Fan Pages and Advertsing
Calco UK will carry out construction of a professional Facebook Business page based on your facebook account and give you basic instruction on its on-going use for £149 - call 0845 257 9460 now to find out why you should do this now!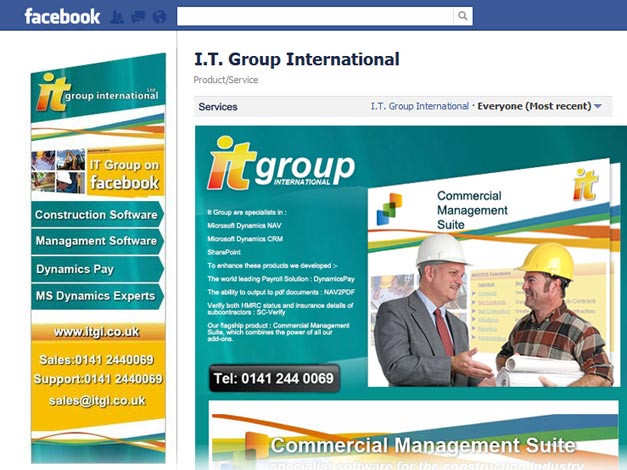 You will need a facebook account, your colour scheme, logo and existing website / or text & contact. If you dont have a facebook account a Business Page will be created for you. There is a small charge for this.
FACEBOOK ADVERTISING

Its not widely known that facebook offer advertising on their network, however the system is actually more granular than most on-line advertising networks, in that you can target EXACTLY who you want to see the adverts by choosing careful placement. In theory facebook know the age, gender, musical taste, postcode, religion, food taste, films, hobbies etc

They also offer : per placement or impressions based advertising. Calco can choose the best value advertising for you as well as design the advert itself.

Examples (left)

These are two examples of our ad design and text. They are the correct size and both are linked to the company websites. The bottom ad has a call to action by phone. The top ad links through to their website where the products and services are described in detail. Customers can then use the website as a point of contact.
If you want to know what's involved in setting up a facebook page yourself click below:-
How to make a facebook Business Page - a step by step guide to setting up the page and how to increase its popularity
How to get more Facebook Likes
Pay for Facebook Advertising and target specific markets
Make sure the "Like" button is on your Blog and Website
Use a Gateway, Reveal or Like-Gate page on your Fan Page. A bit old school but can still force a few likes.
Put the fact you are on Facebook on all your printed literature
Put a LIKE BOX on your website or BLOG
Run competitions on Facebook where the visitors have to like you to participate
Run a feature (or competition) where people can upload PHOTOS on YOUR Facebook page. This way you get their FRIENDS to see the photos on YOUR page,,, and of course any other propositions there.
Use the @ symbol in posts (activate this in Use Facebook As "Jim" )- This makes the posts personal and allows tagging of names.
Use your Facebook PAGE identity when commenting on other "pages" - this entices owners to look at YOUR page **
Send out an Email Newsletter saying you are on Facebook and to click the Thumb Up Like button
Make sure you have a Like link is in the SIG of your emails
Make your Company Page your "employer" - friends will see this, click the link and be taken to your Business Page.
Like Swapping Software. Ethical ? Probably not and remember Facebook will delete your account if you contravene their Terms.
**You cant comment on personal accounts (Friends) when using your Page Identity; only Pages once you "Like" them
What is Top News & Most Recent?
Top News is Facebook's algorithmically ordered posts on your "home" screen. Facebook call this ordering EdgeRank
Most Recent is the chronologically arranged posts
SORT - Use this to flip betweenthe Most Recent and Top Stories orering.
Edit your News Feed Settings .. from the drop-down of your News Feed
You can pay to PROMOTE a post
Internet Explorer shows the Footer Menu on Facebook; Google Chrome needs to scroll to the bottom of timeline.
Highlight - Use the STAR icon to make a Picture or Story spread across 2 columns in Timeline.
Help - www.facebook.com/help
Calco Fan Page sidebar example