BUILDING A GALLERY IN WORDPRESS
One of the first things we are asked is ... How do I "do" a Gallery. So here it is .. How to Build A Gallery using the basic functions in Wordpress.
STEP 1
First you need to upload the pictures you are going to use. You do this by
a) Choosing the page on which you want the gallery to appear
b) Then clicking the ADD MEDIA BUTTON

c) At the top LEFT of the page will be a link that says Create Gallery - click it.

d) Nothing much changes BUT you now click Upload Files (just to the right of Create Gallery)

e) A big area opens up on-screen with a message that says Drop FIles Anywhere to Upload. You can drop into anywhere below UPLOAD FILES and above CREATE NEW GALLERY button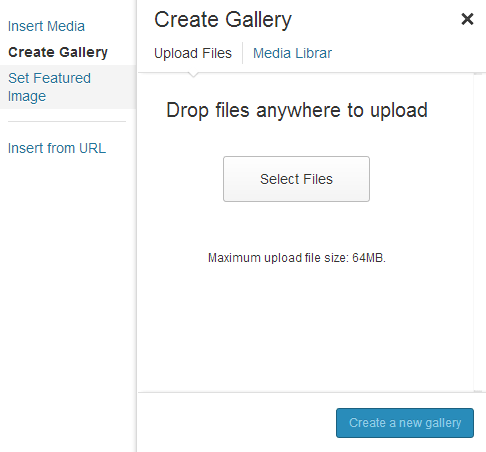 f) Arrange for your computer screen to display simultaneously (side by side) BOTH the files on your computer and the Wordpress drop files window - and DRAG and DROP the files from your computer into the drop-zone in Wordpress
g) Ticks will appear in the corner of the icons representing the pictures WOrdpress will use in your gallery. YOu can SELECT each image in turn and annotate them using the box provided on the bottom right of the window ie TITLE / CAPTION / ALT TEXT / DESCRIPTION.
h) Click the big blue button that says CREATE GALLERY
NOTES : It helps a lot if you give your pictures sensible names ie not IMG_23456.jpg and more like:- Our_Fishing_Boat.jpg. You should try to scale them using the Windows Live Photo Gallery (or the Mac equivalent) to a maximum size of 1200 pixels across the way and 800 pixels down the way.
STEP 2
In this step you can ...
Give the Gallery Pictures a name or description (you can also do all this later)
Re-order the images
Choose how many columns
Choose to display the images in a random order if so desired.
STEP 3
Click the big blue button that says INSERT GALLERY
If at any time you need to edit anything in STEP 3 at a later date ... simply click the GALLERY PLACEHOLDER on your page and choose the EDIT icon from the pop-up menu.
WORDPRESS X-TEND
Calco has developed a system for Wordpress that extends the basic functions and makes Wordpress easier to use for beginners and experienced users alike.
IS IT ANY GOOD?
We use it in-house all the time rather than basic Wordpress!