Why you need to back up Wordpress!
There are AT LEAST 4 good reasons why you need to make sure you always have a working copy of your Wordpress Website:-
Bad code or incompatible plugins prevents your website working. However you may be able to fix Wordpress
An update of one of the plugins, widgets, Wordpress or the Server Software causes Worpress to fail.
Hackers or Viruses corrupt the file system or code.
The server fails or there is a power glitch like a lightning strike.
Any one of these scenarios will cause "tears before bedtime" unless you are suitably insured against such calamities by taking the simple precaution of a regular backup.
A wordpress website comprises two parts which need to be considered separately
The website's text in a database, typically mySQL
Files, Configurations and Images in folders
MAKING THE WORDPRESS WEBSITE BACKUP METHOD 1 (First Choice Domains Control Panel)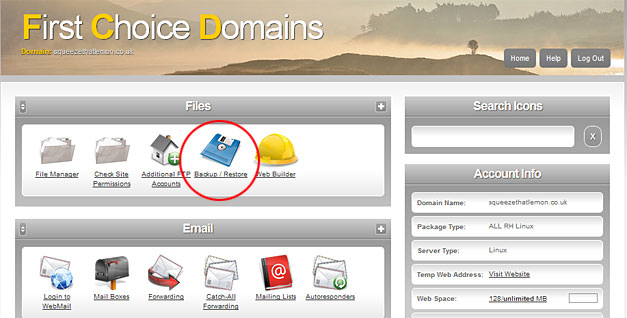 Figure 1 : The control panel
If you have a control panel and it looks like the one above then backing up your Wordpress Website is simple.
STEP 1. Go to your control panel and Log In at http://cp.firstchoicedomains.co.uk Next click Backup / Restore (circled in red in Figure 1). Click FULL Backup (or partial if you know what you are doing) and follow the instructions to download the zip file back-up.
STEP 2. On the same page as Step 1 above, you will have seen a small note that says .. Please note that this only backs up the web site files (as available via FTP). This means, that databases are not backed up here: you can modify and back them up from the databases page. Click this link and follow the instructions. Download your Zip file (which is the back-up) and keep it safe.
BACK UP REGULARLY AFTER CHECKING YOUR WORDPRESS SITE IS FULLY FUNCTIONAL!
MAKING THE WORDPRESS WEBSITE BACKUP METHOD 2 (Cloud Method)
Wordpress websites comprise of a MySQL database and all the other files and images (everything else).
To back up these two items, we need a place "in the cloud" to store the files. Helpfully the company Dropbox allow 2Gb of files to be stored on-line using their service which can "connect" to Wordpress.
Step 1 Create a Dropbox account - just accept all the defaults and choose the 2gb free payment plan.
Step 2 Download and Install the Wordpress Backup "Plugin" wp-db-backup
Step 3 Authorize* Dropbox to have access to Wordpress
Step 4 Select the various items to back-up and how often to run the back-up. We usually back up the following options:-
folder - wp-content
file - .htaccess
file - wp-config.php
When you first see the files and folders listing or "tree", you will see a lot of files. Fortunately, most of these are just generic files Wordpress needs to operate and come with every Wordpress installation, they are NOT particular to YOUR website.
You could of course back up everything, however this takes up much more space in Dropbox and you may quickly reach your limit (2gb free) and of course with Calco's 1-click install, your Wordpress installation can be "put back" in a jiffy at no cost.
NOTE : we have not just assumed you want to keep Dropbox free as the primary reason NOT to back EVERYTHING up. Apart from being good practice to keep everything you back up as succinct as possible, it also takes a longer time to back up large numbers of files or huge files. The primary cause of "file bloat" are huge images. Most digital cameras produce files in excess of 3mb, however the absolute maximum you should ever be uploading to a website is 0.3 Mb ... a TENTH of the normal size, but still big enough to fill a computer screen. Large files also cause your website to load slowly and both you and Google DONT want that!
*Dropbox have been around a long time now and should be security conscious, however you ARE giving them access to the back end of your Wordpress installation. You also have to install their application on to your computer (PC or Mac).
The official Wordpress Website is here
TWO SERVERS CONFIGURATIONS
Calco runs TWO different configurations of MySQL and so we have TWO
1) First Choice Domains version of the control panel allows users to back up in 2 simple stages. See Option 1 (left)
2) Calco Domains - This server is a dedicated MySQL database server and requires manual back-up. Please see Option 2 (left)
If you are not sure what system you are on, just call us.
01599 534964 | sales@calcouk.com
BACK UP REGULARLY AFTER CHECKING YOUR WORDPRESS SITE IS FULLY FUNCTIONAL!