What is an SSL Certificate?
An SSL Certificate secures your website and means anyone looking at data records or monitoring your activity cannot see the data coming from your website because that data is now encrypted. An SSL Certificate is really just a couple of very long passwords, used as KEYS to ENCRYPT the data sent to and from a web page or a server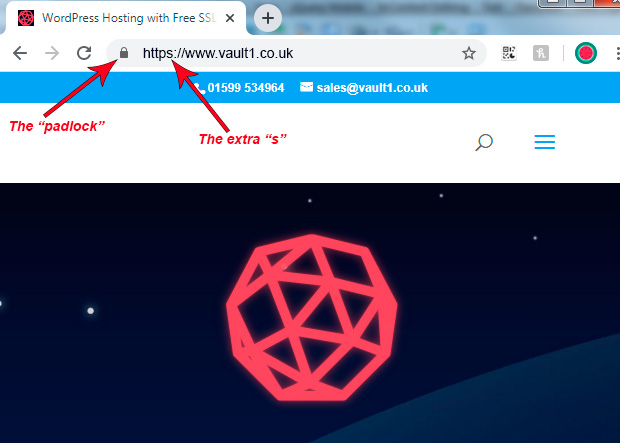 Figure 1. How to identify an SSL Certificate is being used. The Padlock symbol and the extra "s" in "https"
Do I need an SSL Certificate?
Yes. Sites without an "SSL" are "described by Google as UNSAFE or NOT SECURE. This is worrying for visitors to your website. In some cases the web page might not even display at all, and instead a message is displayed indicating the website could be DANGEROUS. In such cases there isn't an easy way to see the website. Your website MAY still work without an SSL installed, however you probably won't even know that users are experiencing difficulties unless they email or phone you (assuming they can find this information). So while a website may still work, users on Google Chrome could see a notice telling them the site is dangerous or unsecured. Google pro-actively dissuades visitors from looking at your (non-SSL)website and downgrade your listing in their search results. On Microsoft's "Edge" Browser, no padlock is displayed for NON-SSL websites, instead there is just an "i" symbol. In Firefox its a similar situation to Google (Chrome) where a "Secure Connection Failed" message can be displayed instead of your website. In Apple Mac (Safari) Browser, yet again the situation is a "This connection is not private" message or just a "Not Secure" warning.
NOTE: over 80% of web users use Google Chrome Browser (Nov 2019).
In essence then you should have an SSL Certificate because:-
Visitors may not see the website. Instead a "helpful" warning sign may be displayed in its place (Fig.2)
Your website will lose rank in Google's Search Results compared to an identical site WITH an SSL
Customers wont trust, or will trust less, a website without an SSL
Websites, especially E-Commerce, are not completely secure and probably cant use Paypal or Credit Cards unless they HAVE an SSL Certificate.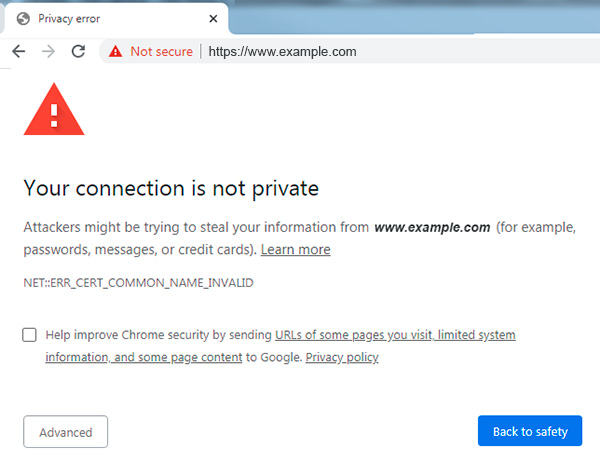 Figure 2. Google Chrome's "No SSL" warning Message ("example" is just an example website not a real one)
How do I know if a website is using an SSL Certificate to secure a website?
A little PADLOCK is displayed in the Address Bar at the top of the browser (se Figure 1 above) and an "s" is added to the beginning of the address as follows: . https://www.mylovelyhorse.co.uk (We are using https rather than http). This extra "s" tells the web browser to encrypt the data.
How do I get an SSL Certificate?
Calco UK or any of our subsidiaries (First Choice Domains and Vault 1) can supply you with an SSL or multiple SSLs. All we need is your Domain Name Company details. Most people opt for a SIMPLE SSL which provides the little padlock symbol and encryption.
How long does it take to install a smple (non verified) SSL Certificate?
Once we have all the required details, typically around 2 hours.
Does Google preferentially list SSL Secured websites?
YES! If two websites were identical, but one was using an SSL Certificate, the SSL one will be listed ABOVE the one without and SSL!
Is SSL just a short way of saying SSL Certificate?
Basically yes. SSL is the protocol, and SSL Certificate is the thing you buy every year. It is not a paper Certificate, just a database entry that links your two passwords to your Company Name and Address etc.
Are all SSL Certificates the same?
No, there are several levels of SSL and many vendors. The basic SSLs only encrypt the data and are for one part of one domain name. "Better" or rather more expensive SSLs, come with good levels of Insurance and strict vetting. More expensive SSLs can also be termed WILDCARD and cover several domains and sub-domains. Lastly and generally speaking, the more expensive the SSL, the better the VALIDATION. This means your company is formally VETTED and guaranteed by the issuing company.
EV is an EXTENDED VALIDATION Certificate which checks the right of company to use the domain and a thorough vetting of the organisation according to guidelines. These SSLs are expensive (hundreds of pounds per annum)
DV is a DOMAIN VALIDATED Certificate as above but without the strict company vetting.
Can all websites easily get an SSL Certificate installed?
Yes, but NOT always "easily". Some very large or complicated websites may be extremely difficult to upgrade and debug, making it EXPENSIVE and may result in the site having to be replaced.
Do I need to be a customer of Calco UK to get an SSL from you?
Yes and No .. If you are not currently a customer of Calco, we can transfer your website(s) to our servers and then install the SSL Certificate. If you are not a customer of Calco, we cannot just sell you and SSL as we need access to the website's server and its security details. Our annual hosting fee with SSL is currently £139 GBP / annum. This is the price for Hosting, Back-ups, multiple email accounts with 10GB for each Email Accounts and SSL Certificate(s); i.e. not the price for the SSL, but for the WHOLE package.
Who are Calco, First Choice Domains and Vault 1?
Calco has been in business for over 20 years and have three brands:
Calco UK Ltd, the holding company who provide Website, Consultancy and Web Services,
First Choice Domains or FCD, which sell value hosting and domains with your own control panel..
Vault 1 or "Vault1 by Calco" who sell premium 100% solid state hosting and superb back-up.
LEGAL NOTE : The above information is a simplified version of how SSLs work and the consequences of not having one. While the information is accurate to the best of our knowledge as of January 2020, some statements are simplified so as not to confuse non-technical readers and therefore more like a value judgement than a statement of fact. You should therefore consult Wikipedia or Google if you are concerned as to the accuracy of any statement contained herein. You can also just call or email us.
What is an SSL Certificate?
SSL stands for Secure Sockets Layer
SSL Certificates encrypt data sent from a web page
"Better" SSLs establish the owner as genuine.
Browsers negatively notify users when displaying non-SSL pages
You SHOULD get one even if your website is non-e-commerce
https (rather than just http) indicates the website is using an SSL Certificate.
SSLs are purchased as part of your HOSTING annually from Calco UK. They are not sold on their own.
DATE REF: (current as of January 2020)