GETTING OFF SPAM BLACKLISTS
Why do my emails go missing
If you are already ON a spam list and just want to know How to get off a spam list you can click the link. However it seems only prudent you know how you got on to a spam list in the first place.
ALL CAPS SPAM is becoming so common that we thought it would be a good idea to highlight what happens to an email that has all caps in the Subject of the email (see fig. 1 below)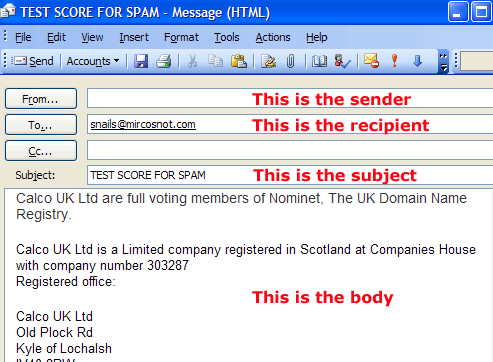 Figure 1 - The primary fields of an email form.
Firstly nearly all email now is SCORED as spam or not spam. A typical score for SPAM is 5 or more. The more spammy aspects in your email; the higher your score.
One of the worst offenders or at least most common is ALL BLOCK CAPITALS IN THE SUBJECT.
Whatever the reason, 3 or more CAPITALIZED words in the Subject of an email will attract a high spam score.
Here is an email to Calco UK with an offer to attend a conference - as you will see the email only scraped in under the spam filter.
====begin email===
WEB DESIGN AND DEVELOPMENT COMPANY -- REQUEST FOR MEETING @ INTERNET WORLD 2011,LONDON
Sudipto Das <sales@citytechcorp.com>
Dear Sir/Madam,
We are pleased to welcome you at the InternetWorld 2011 at Earls Court, London. As you may be aware that this event is Europe's leading event for Digital Marketing and Online Business.
etc ... ===end email===
and now his or her spam score :-

X-Spam-Checker-Version: SpamAssassin 3.2.5 (2008-06-10)
X-Spam-Level: **** (4 stars)
X-Spam-Status: No, score=4.1 required=5.0 tests=
DEAR_SOMETHING,
SUBJ_ALL_CAPS
Spam Assassin is the name of the programme on the server that checks for spam - My own preference is to set it at 5 which is moderate. However this is ONLY because I NEED to receive messages from clients who use spammy methods in their emails. I would rather set it to HIGH so I dont get any spam.
Many people however DONT set their spam to moderate, preferring to gain more protection and additionally, some internet providers dont actually allow access to the spam filter and so you wont actually know if you are loosing emails through spam.
In the above example the creator of the email also used Dear Sir/Madam which added to the spam score - not fair I agree, but that is what spam filters do to emails. This example highlights the need NOT to use caps as UNKNOWN elements such as Dear Sir /Madam or a large image in the email, may already have your score almost raised to an spammy level and adding caps finally tips the spam score over the threshold.
The moral of this tale is DONT USE CAPS IN THE SUBJECT of your emails.
Finally ... the sting in the tail of this tale is that if you are found to be spammy, over and over again, you may get BLACKLISTED which means your emails willo be unlikely to be allowed ANYWHERE outside of your own computer; this would be especially true if you are a church or club secretary sending loads of emails at one time.
THE SPAM RULES
Here is a list of point Infringenments used by spam assassin
Here are some common problems:

3 or more CAPITALIZED words in the Subject line (as in the example above) - Its also considered shouting and arrogant. Think of it like this... Everyone else is speaking normally at a meeting, but one person is SHOUTING EVERY WORD because THEY want THEIR message to be heard above everyone else!
No subject text at all
Email contains just one huge image and a few words
Subject starts with Hello or Free or GUARANTEED etc
Subject line starts with Buy or Buying
Email has more than 70 percent blank lines
Weird repeated double-quotation marks
Body mentions Viagra, no prescription, online Pharmacy etc
Attempts to disguise a word(s)
From field contains an empty name (as in the Figure 1 above)
Reply to is empty
Too many similar recipients in the To field
Subject (or other fiields) contains G.a.p.p.y-T.e.x.t with lots of spaces or underscores etc
Subject starts with dollar sign or amount
Address contains "free"
Email contains an executable EXE BAT PIF etc (or DAT file Email sent from Apple Mac to PC issue)
Message is a saved web page
Font size of message is huge
Font colour is the same as the background (invisible text)
Body Text: Offers a full refund , Dear Friend, Contains 'Dear (something)' , Talks about lots of money, Offers a alert about a stock, Information on growing body parts or impotence, Information on mortgages, Money back guarantee, There is no obligation, Risk free. As seen on national TV! Off Shore Scams, Why Pay More? etc etc
Pornography of any kind - specific kinds of pornography is a higher score.
Bulk mail : this is a whole new subject for discussion in itself.
Message attachement would have been run by by an Access db or other Microsoft Executable.
The above is an ever growing list and as spam senders become more wily the rules are likely to become more stringent.
Click here if you are worried about already being blacklisted and want to check your domain / email address
You may also find useful our article on How Email Goes Missing via spam filters or blacklists.
How To Remove yourself from a Spam Blacklist
Its fairly easy so long as you didnt deserve to be on the list.
Most of these lists are automated. In around three to five days MINOR INFRINGEMENTS will automatically be deleted from the list.
If this isnt policy or doesnt happen you can apply to be removed from the list by going to the list operator's website and filling out a form.
There is a list of the spam houses on the right hand panel at the top of the page. >>
list of the spam houses that keep lists :-
Click the house if you think you are on their list. You can then apply to have your domain or block removed.